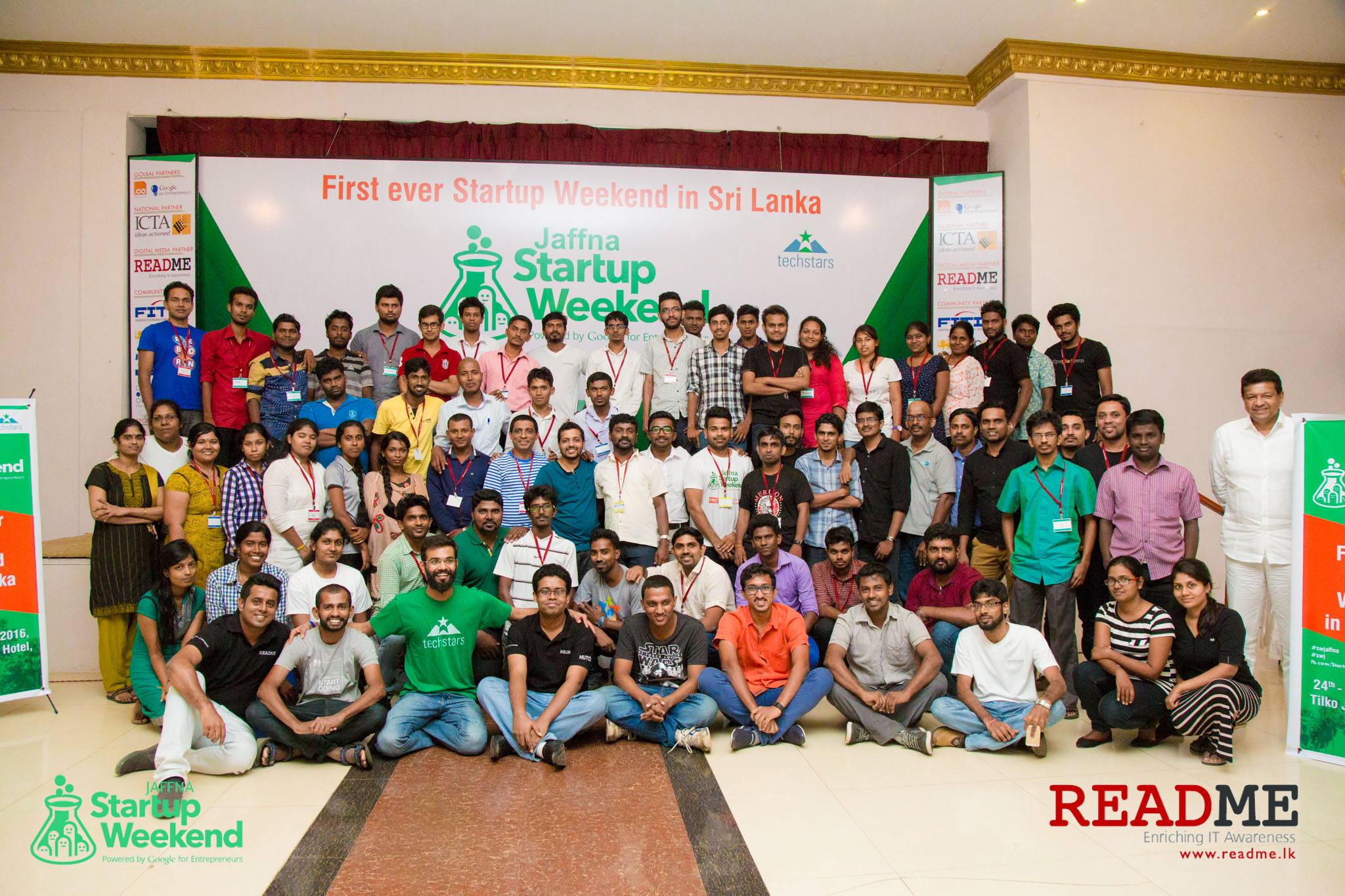 Startup Weekend Jaffna is the Milestone for NCIT
Startup Weekend is a global network of passionate leaders and entrepreneurs on a mission to inspire, educate, and empower individuals, teams and communities.
Startup Weekend Sri Lanka is a 54-hour event that brings together Sri Lankan Startup Entrepreneurs like designers, developers, Techies, and experts from all domains to do amazing things. The first Startup Sri Lanka is held at Jaffna on 24th-26th June. NCIT initiated this event in Srilanka as First ever International Technology event in Jaffna and First ever Startup weekend in Srilanka. 
Here're the finalized startup ideas we saw from the teams at Startup Weekend Jaffna.
PredCult
Farmers face several problems that prevent them from earning profits. According to the teams, these problems have pushed some farmers to the brink of suicide. The biggest problem is the middle man. What PredCult is offering is to be a simple middleman. With PredCult, customers can directly pre-order items from the farmer. PredCult will then deliver the items to the customers via third-party couriers. However, for larger orders, they will charge extra or ask farmers to deliver the orders directly.
The team then showed a website as part of their demo. With the website a customer can place an order for an item. Once the order is placed, they can rate the farmer. After the order is placed, the customer can expect regular notifications about their orders. Their pricing model is a simple equation which is: Cost per kg + Farmer + Profit. The team already has plans to execute the idea in Colombo with a team member already having a paddy field.
tour-O-pedia
This team had a bit of a chaotic presentation, but their idea was clear. Many people when visiting new locations, don't know anything about it. They want to know what to see and experience but there are many barriers to that. Seeing this problem, this team built tour-O-pedia.
Tour-O-pedia is a website that allows you to plan every aspect of your trip. Furthermore, it tells you what places you should see and experiences you should try when you visit an unknown place. Additionally, the website would also allow you to experience virtual reality tours. The team concludes by sharing with us that 1.8 million tourists visit Sri Lanka annually. However, the team will not be aiming at all 1.8 million people. Their only focus is the people interested in experiencing the local culture.
Digital Menu Card
The team got the idea for their idea seeing foreigners visiting restaurants in Jaffna. Restaurants in Jaffna will have their menus in Tamil. Anyone who doesn't speak Tamil will be lost say's the team leader. This is why team built the digital menu card: a multi-language menu app running on tablets.
With the Digital Menu Card, customers can place orders and it's directly communicated to the kitchen. As the customers look at the menu, the app shows detailed information about the items. As the day passes, the app also updates the menu from breakfast to lunch to dinner.
But how does the team plan to convince restaurants and hotels to use their system? Initially, the team says they will give out tablets free to introduce the technology. Afterward, the team plans on charging Rs. 5000 from each hotel. Essentially, the same strategy we've seen cloud storage providers use.
Start My Team
Finding the right people for your team is a challenge. This is how the team began their presentation. The team goes on to state that Sri Lanka has many meetups and conferences for the tech industry to network. Yet, 60% of the people attending these events don't remember the people they meet.
What the team proposes is to collect the contact details and skillsets of attendees coming to these events. With this data, the team is offering an app that wants to help you build that perfect team. To do so, the app will let you find people based on their skill sets and gives you their contact details. It's free at the start for the first 10 people to join your team. To find the 11th person, though, you'll have to pay.
Sky City
What this team wants to do is let you shop anywhere you are. During their tech demo, we saw a website which uses Google's Street View. But there's a twist with little yellow icons in front of the entrances of shops. When you click on the yellow icon, you're redirected to an e-commerce page for the shop.
The team still faces a few technical challenges before their vision is truly a reality. The team's first step is to find shops that would partner with them in Colombo and Kandy. So how does the team plan to make money? They will do so in a 15% commission.
Air Turbon
Remember when Amazon tried experimenting with drones for delivery? This team wants to do something very similar. The team hopes to use drones to help e-commerce companies deliver their products faster. The team came up with this idea seeing the problems with traditional delivery methods used by e-commerce companies.
How much will drone delivery cost, though? Well, that depends on the weight of the package and how far it needs to fly. The team's entire system will consist of a drone, apps for the customers and a delivery management interface for e-commerce companies. So far the team has completed their primary research. However, they've yet to build an MVP.
LK Products
Many manufacturers of traditional Sri Lankan goods are underprivileged and do not have a proper marketplace. As such, the team has built an e-commerce website called LK Products. This is an e-commerce website that will be focused on selling products of local Sri Lankan manufacturers. The team believes that they have an edge over existing e-commerce websites as they don't sell traditional Sri Lankan items.
i-Augment
Shiva is building his house. Jeeva is planning to build his office. They both get a sketch and pay a CAD designer. For homes this is fine, so Shiva is safe. But for Jeeva's office, he needs government approval. In the event the government rejects Jeeva's proposal, he'd have lost a lot of money paying the CAD designer. This is the story and the problem i-Augment says they want to solve.
How do they plan on doing it? By building an app that takes the planning sketches and creates virtual tours of buildings. It's an ambitious idea and the team still has a few technical challenges they need to overcome. Assuming they overcome the challenges what's their business models?
The team has identified that they do have a competitor in this field: Archilogic and existing CAD designers. However, both options are costly. Archilogic's existing plans already cost over $100. I-Augment instead will offer a free option with additional features available $15 for house plans and $25 for corporate plans.
Go Monkey
Arguably the most talked about startup over the weekend. The problem they want to solve is monkeys. You see, monkeys cause a lot of problems. They destroy property, farms and even attack humans. The team shares a video they shot when validating their product. It shows people, mainly farmers saying that they would be very interested in the product. Once the video ends, the audience gives a loud round of applause.
The team then shares existing methods people use to stop monkeys. One method is building fences, which would easily cost over Rs. 1 million. Other options people use is firecrackers and government issuing licenses for people to own firearms. However, these hurt the monkeys and are of limited effectiveness. The team is offering a new way of repelling monkeys that's harmless.
The team's idea is to set up a network of sensors. When a monkey enters the area and trips a sensor, loudspeakers play the sounds of snakes being in the area. The team goes on to elaborate that monkeys operate in packs. As such they usually send a spy beforehand to explore any new area. The spy explores the area and returns to the pack. If the spy reports to the pack that it's unsafe then the pack avoids the area. So how much will this system that keeps monkeys away cost? Rs. 19,000.
War Tourism
This is the only startup idea that wasn't an app. This team wants to do something different. They want to build a war museum. The team hopes to buy some large areas of land and convert them into a model village. However, this would be a village which only contains the technology in a war-torn zone. So too will be the structures, complete with bunkers and other structures found during the war. In other words, this model village is a recreation of Jaffna as it was during the war.
Tour Pal (Smart Travel Guide)
This team has a chatbot and it is live on tourpal.co. This chatbot is the third travel-related startup idea we've seen so far at Startup Weekend Jaffna. The team has identified that 33% of travelers use apps like Google Maps and Zomato to find activities to experience when visiting a new location. However, it's still a challenge to get data as these apps specialize in different things.
However, none of them beat the experience of getting information from a local. This is something the team identified during their validation process as they spoke with people. This where the chatbot comes in. The chatbot aims to be a centralized hub that would help you like a local friend to find things to experience when visiting a new location.
Currently, Tour Pal is only a Facebook messenger chatbot that knows restaurants. It's free to use for its end users. For businesses, the team would charge $5 to push ads in a similar manner to Google. Tourpal would only push ads to customers when they ask questions that would be closely related to the business.
Smart Changer
Occasionally, we leave our homes having forgotten to turn something off. This could be anything from our lights to our irons. It's only after we are far away from home that we remember about it. It's all too easy for our electricity bills to rise and a fire to burn down our houses with this bad habits. This is team wants to solve this problem for you.
What they are offering is a solution to turn your normal switches into smart switches. To do so, they have a simple mechanism which you can put on top of your normal switches. Once this mechanism is placed on your switches they can be turned on and off with a companion app. The cost of these mechanisms would Rs. 1000 each. The team also plans to offer 6 months warranty with a free service charge.
The winners of the inaugural Startup Weekend Jaffna
After three days of hard work, the pitches have been made. Once the judges had given their feedback it was time to announce the winners. *insert drumroll here* The winners of Startup Weekend Jaffna are:
1st place: Go Monkey
2nd place: i-Augment
3rd place: Start My Team
Additionally, Air Turbon won the award for being the most innovative and Go Monkey also bagged the crowd favorite award. Once the winners had been announced, Anurag took the stage once more. He congratulated all the teams that took part and encouraged them to go forward with their ideas. Some of the greatest Startup Weekend Jaffna stories he says are from teams that didn't win. He concluded his speech with an introduction to other initiatives by TechStars and thanked the sponsors that made Startup Weekend Jaffna.
News Source: Readme