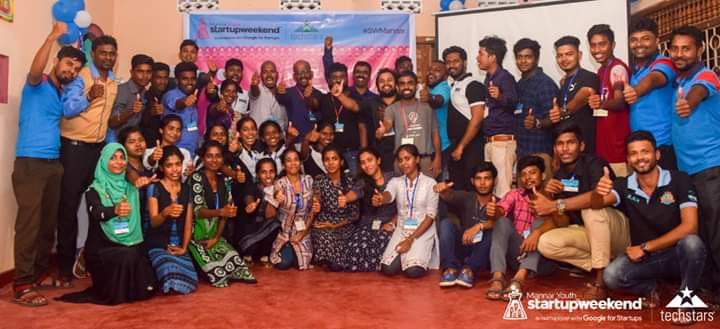 First ever Startup Weekend Mannar Came to end
Northern Chamber of Information Technology (NCIT) engagement with Startup Weekend Mannar event as "Community Partner".it is Held on 14-16 Dec 2018 @ ManFICT Hall in Mannar .Financial part of the event was handled through Our Organization with the support of WUSC and most of the Organizing team members were from NCIT.
It was first ever Startup weekend event in Mannar
Our goal is to create an environment where passionate people can come together to get things done; to learn, network, bridge the gap between trades, expose potential and see actual results. We are proud to be a part of this type of innovative collaboration.
On the first day of Startup Weekend Mannar 2018 the teams met and pitched their ideas. On the second day, they began working to make their ideas a reality. We also saw a speech on the final day by Robinson Prashanthan – Founder of Innovay. He encouraged the participants and shared with them why now is the best time to be an entrepreneur.

Mr.Thavaruban (CEO,Speed IT net,Chairman of NCIT) Facilitated the event for 3 days with support of Techstrar regional Mananger Mr.Anurag. SWMannar participants found a time to engage with seed bombing activity while they are hacking on their ideas on 3rd Day."Wanaspathi" was sponsoring for seed bombs
The winners of Startup Weekend mannar 2018 were:
1st place: G & media business
2nd place: ICT BEE
3rd place: DryFish lk
WUSC,ICTA ,, Readme, BrandMe were in the Sponsor list.
Gallery Day 1 | Day 2 | Day 3 |Day 3 Part 2